Carlos is widely recognized as one of the most prominent and skilled attorneys in the field of family law in Colombia. He graduated from Pontificia Universidad Javeriana in 1973 and has over 50 years of experience in all areas of family law. Carlos is particularly renowned for his exceptional dispute litigation and negotiating skills. He provides legal services that encompass all aspects of family relations, providing strategic planning that protects the family's interests and wealth.
Throughout his illustrious career, Carlos has served as an advisor in family law matters for numerous institutions, including the National Government, the Ministry of Justice, and the Inspector General of Colombia. He has also been an influential member of the legal community, shaping the country´s legal framework in the field of family law. He played a key role in the legalization of divorce in Colombia, serving as an advisor for the legal regulation in this matter. He was also a member of the Sub-Commission of family matters during the preparatory sessions for the Constituent Assembly of Colombia. Furthermore, Carlos served as an Associate Justice at the Superior Court of Bogotá and the Superior Court of Cundinamarca.
In addition to his legal achievements, Carlos is an accomplished educator and has lectured on Civil Law, Estate and Trust, and Family Law programs at various prestigious Schools of Law in Colombia since 1974. He was the Director of the Family Law graduate program at Pontificia Universidad Javeriana from 1989 to 2016 and served as the President of "Asociación Cavelier del Derecho" from 2005 to 2021, demonstrating his leadership in the legal community.
In recognition of his exceptional contributions to the field of family law and his service to the Javeriana community, in December of 2023, Carlos was admitted to the Javeriana Order in the rank of Officer, the highest recognition for a professor at Javeriana University. This prestigious award highlighted Carlos's achievements and leadership in the study of family law.
Overall, Carlos is a highly respected member of the legal community, renowned for his negotiation and litigation skills, extensive experience, and leadership in the field of family law. His contributions have had a significant impact on the legal profession and have helped countless families protect their interests and wealth.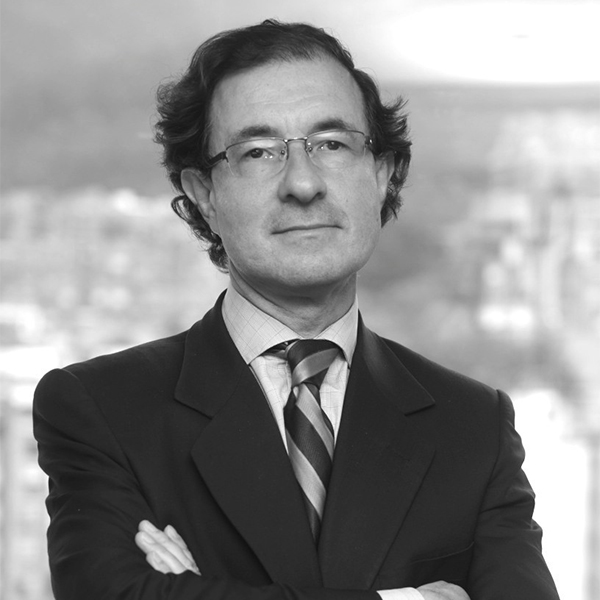 Álvaro is a distinguished family lawyer with over 30 years of experience. He graduated from Pontificia Universidad Javeriana in 1986 and earned a Master's degree in Family Therapy and Systemic Ideas from the Association of Psychoanalysis and Psychotherapy, in collaboration with the Kensington Consultation Centre of London, in 1998. In addition, he pursued a degree in Literary Studies from Pontificia Universidad Javeriana in 1991.
Throughout his career, Álvaro has gained a reputation as a skilled and effective trial family attorney, with particular expertise in negotiating and mediating complex family conflicts and estate issues. He has a unique set of legal and negotiation skills, which he uses to design comprehensive legal solutions that prevent family conflicts and preserve family wealth. He is committed to providing the highest level of legal representation to his clients and his extensive knowledge and experience have made him a sought-after advisor on family law and family mediation matters.
In addition to his professional experience, Álvaro has served as a professor of Family Law and Family Mediation at well-known schools of law in Colombia since 1988. He has also been a frequent lecturer on family law and family mediation topics in seminars and academic events.
Álvaro's expertise in family law and estate issues has led him to be involved in several high-profile cases throughout his career. He has represented a wide range of clients, from high-net-worth individuals to family businesses and trusts. His ability to handle complex family conflicts and provide legal solutions that prevent conflicts and preserve family wealth has made him a trusted advisor to his clients.
JUAN CARLOS GALLÓN GUERRERO
Juan Carlos Gallón Guerrero is a highly experienced and accomplished family attorney with over 20 years of expertise in resolving complex family law and inheritance disputes. He received his law degree from Pontificia Universidad Javeriana and also earned graduate degrees in Family Law and Communications Law from the same institution. Additionally, he pursued an International Business Law degree at Pontificia Universidad Javeriana in collaboration with the American University's Washington College of Law.
Juan Carlos is well-versed in various family law matters, including divorce, child custody and visitation, spousal support, and adoption, as well as inheritance disputes such as will contests, trust disputes, and estate administration. He is known for providing tailored and effective legal solutions that are both financially efficient and meet his clients' specific needs and goals.
As a respected member of the legal community, Juan Carlos is often sought as an external family law advisor for family businesses and law firms.
Aside from his legal practice, Juan Carlos is passionate about educating and mentoring aspiring lawyers. He currently serves as a professor of Family Law at both Pontificia Universidad Javeriana and Universidad Sergio Arboleda, sharing his extensive knowledge and experience in family law and inheritance disputes with the next generation of legal professionals.
Susana is a highly skilled family attorney with a strong commitment to promoting amicable solutions to family conflicts while safeguarding the rights of children. She graduated with honors from Pontificia Universidad Javeriana in 2013, where she also obtained a graduate degree in Family Law in 2014. In addition, she completed a Master of Law (LL.M) from The University of California, Berkeley School of Law in 2017, and has taken various courses on children's rights, gender equality, and alternative dispute resolution methods.
At Rivera Pinilla & Gallón, Susana is recognized for her compassionate and collaborative approach to resolving family conflicts. Her expertise lies in providing comprehensive and multidisciplinary advice to help families find amicable solutions to their legal issues. Furthermore, she is passionate about ensuring that the well-being and interests of children are at the forefront of every decision, and strives to help families navigate complex legal issues with empathy and understanding.
Susana worked as a legal advisor at the Inspector-Attorney General Office of Colombia (Procuraduría General de la Nación), where she provided expert guidance on children's rights, gender equality, and family law. In this institution, she also served as the coordinator of the International Cooperation Office, where she engaged with key international stakeholders to promote social justice and human rights in Colombia.
In addition to her legal work, Susana is a dedicated educator. She has lectured on Family Law and Introduction to Family Law at both Andes University and Pontificia Universidad Javeriana, where she also served as the Coordinator of the Private Law Department at the Faculty of Law. Through her teaching, Susana inspires and empowers her students to become advocates for the welfare of children and families from a multidisciplinary and empathic perspective.
Susana's thesis at law school, "The DNA Test: A Hybrid between Science and Chance," was awarded honors and was later published as a book.
Carlos Albornoz Bernal is a highly dedicated lawyer with a deep passion for family law. He graduated from Pontificia Universidad Javeriana in 2021 and earned his graduate degree in Family Law from the same institution in 2023. As a talented researcher, Carlos has a comprehensive understanding of legislation and case law related to various and innovative family law matters, including child custody, child support, marriage, domestic partnerships, adoptions, surrogacy, and divorce.
Currently serving as an assistant professor of Family Law at Pontificia Universidad Javeriana, Carlos remains up-to-date with the latest developments in the field, enabling him to provide innovative and well-informed legal solutions to complex issues that our clients and their families face. His research skills are complemented by his empathetic and attentive communication style, allowing him to understand and address the unique needs and concerns of individuals involved in family conflicts.
Carlos' expertise in Family Law, combined with his discipline, passion for research, and empathetic approach make him an invaluable asset to our team. He is committed to creating personalized solutions for our clients, delivering high-quality legal services and recommendations to help them achieve the best possible outcomes.
Nelson Rodríguez Laguna is a certified  Public Accountant graduated from Universidad Jorge Tadeo Lozano (2003), attorney from Universidad Autónoma de Colombia (2016) and Specialist in Tax Law from Universidad Externado de Colombia (2018).
With over 20 years of experience, Mr. Rodríguez Laguna has provided comprehensive advice on accounting, administrative, and tax-related issues to companies in the real sector, as well as advising on family wealth management matters that require an analysis of accounting, tax, and financial aspects.
Due to his solid knowledge in these areas and his large experience, Mr. Rodríguez Laguna is a valuable strategic ally that complements and supports our legal services, enabling us to identify and  mitigate potential risks, maximize opportunities, and provide effective counsel on matters impacting our clients' estate planning and the efficient management of their family wealth.